Category: LinkWare
(Page updated Tuesday, April 8, 2003 8:35 PM )
Click on image for larger view
Click on animation to download linkware
Note: The template you download will have (in most cases) the button text removed so you can add your own using a graphics editing program. You can edit your page links using any html editor. Pages that use frames are set so links open content pages in the mainframe window. Note: The linkback to this site on the template must remain on all pages that use this template. If you let me know your web address where this template is in use i will supply a free link to it from this site(optional).

Cool Graphics Webdesign can add the button text and page links for you on request. We can also assist you with adding your page content etc... all this for a small fee. Contact us for further details.


Explosive PDA Themes are now here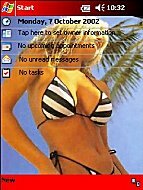 Cool Graphics Web Design, © 2001 All Rights Reserved. Copyright Information.